Best Time To Visit Coorg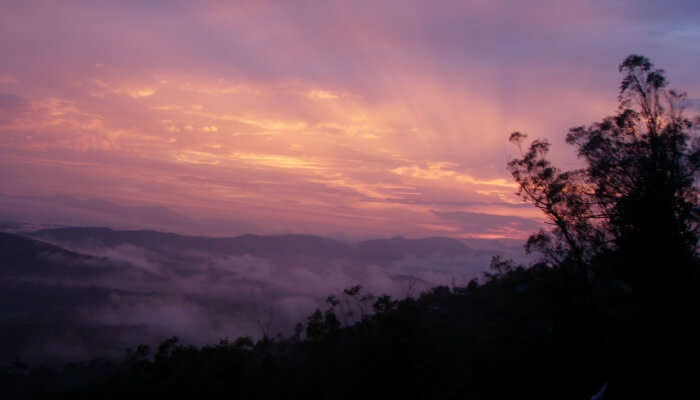 The best time to visit Coorg is in winter. But monsoon and summers in Coorg are also frequented by tourists.

In winters (September – February)
The temperatures during winters vary between 10 – 25 degrees Celsius, encompassing an enticing aura romance. Sitting by the fireplace and drinking wine play Cupid during this time. However, most of the commercial activities stay shut; you can still camp, trek, go bird-watching or for safaris.

In summers (March – May)
The temperature during summers varies between 20 – 35 degrees Celsius. The afternoons maybe a little sweaty, but the mornings and evenings are fluent and chill. The hill-station is swamped with tourists during this time, so commuting and accommodation might be a tad bit expensive.

In monsoon (June – September)
The temperature during monsoon varies between 20 – 30 degrees Celsius. The waterfalls are flowing rapidly, and the hill-station is at its zenith of the lush green atmosphere. Thick dense clouds surround the hills, and streams are overflowing. However, activities like trekking are not permissible during this time.
4 Romantic Places To Visit In Coorg
Spend your honeymoon amid nature and tranquil surroundings of Coorg! Here is a list of places that will give you the best of what this hill-station has to offer.
1. Abbey Falls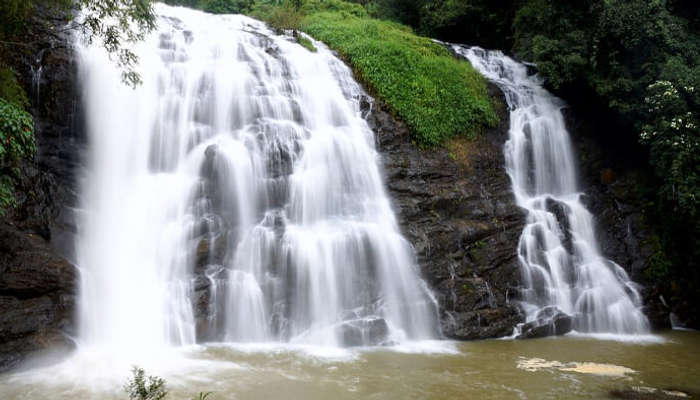 Image Source
Abbey Falls offers a spectacular view of resonating waterfalls falling from a height of 70 feet. Nestled amidst the Western Ghats, the path to the falls is flanked with coffee plantations and spice estates and pepper vines. Spend your honeymoon exploring the cultural lifestyle of Coorg.
Time: 9:00 AM – 5:00 PM
Entry Fee: INR 15 per person
2. Golden Temple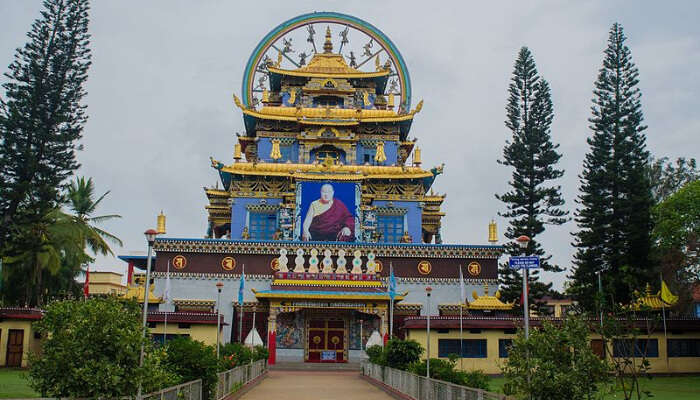 Image Source
Namdroling Monastery or Golden Temple is the largest Tibetan Buddhism teaching institute. It flaunts Tibetan artwork with its intricately constructed pillars and ornate exteriors. The daily prayer rituals begin at 1:00 PM and are tranquil and to experience.
Time: 9:00 AM – 6:00 PM
Entry Fee: No entry fee
3. Tadiandamol Peak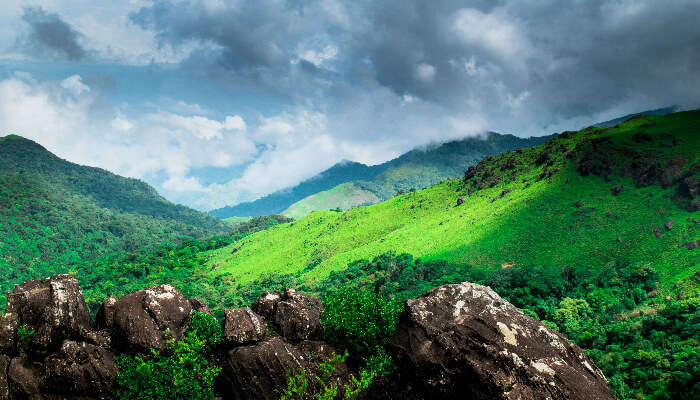 Image Source
Trek on the highest peak of Karnataka, located at an elevation of 1748 meters. The trek is graded as a difficult one, but the nightscapes, stargazing, and dainty hills are a sight for the eyes.
4. Raja's Seat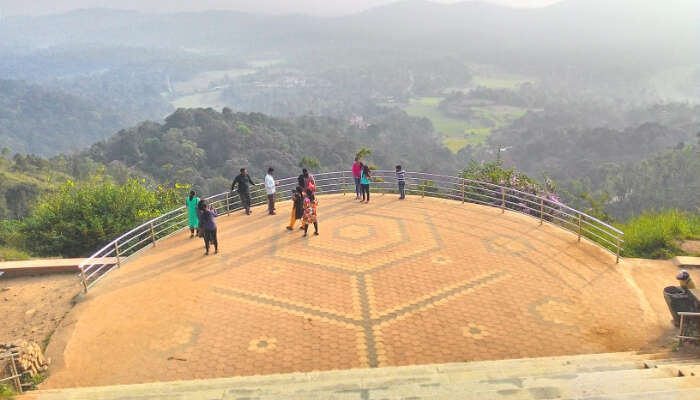 Image Source
Raja's Seat is a historical glimpse into the hill-station's heritage. The Kings of Kodagu built this artificial garden to spend some leisure time watching sunrises or sunsets. The expanse of hills surrounding the garden make for a dainty view. A light and sound show takes place every night marveling at its history.
Time: 5:30 AM – 7:30 PM
Entry Fee: INR 5 per person
Romantic Places To Stay In Coorg
Most of where you travel are where you stay. In Coorg, you will find lavish destinations reconnoitering yourself to nature, or marveling at the unique interiors of the place.
5. Taj Madikeri Resort And Spa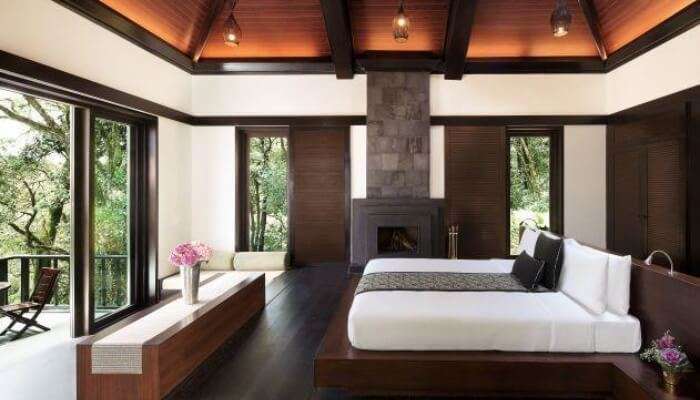 The panoramic view of hills from glass windows at Taj Madikeri Resort and Spa will make for an ideal stay. The contrast of unique colors in its décor, swimming pool, and spa and cooking lessons feature a prolific experience.
Location: 1st Monnageri Galibeedu Post, Madikeri, India
Price: INR 14,000 per night
6. Woodstock Resort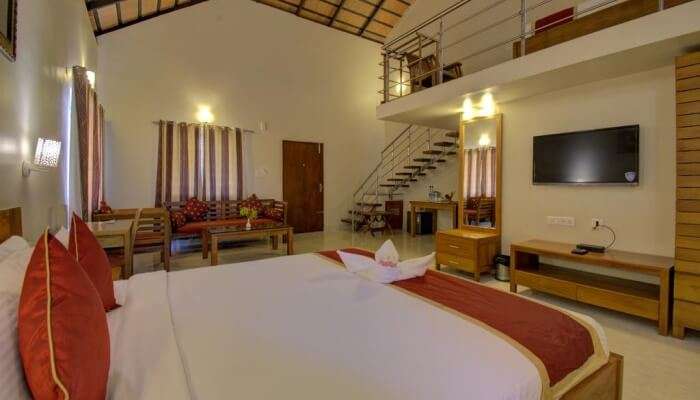 The Woodstock Villas is located on the outskirts of the town. The array of coffees and teas sourced out from native plantations is a sumptuous specialty of the resort.
Location: Madikeri – Mysore Highway near Sampigekatte Junction, Madikeri, India
Price: INR 5,000 per night
7. Heritage Resort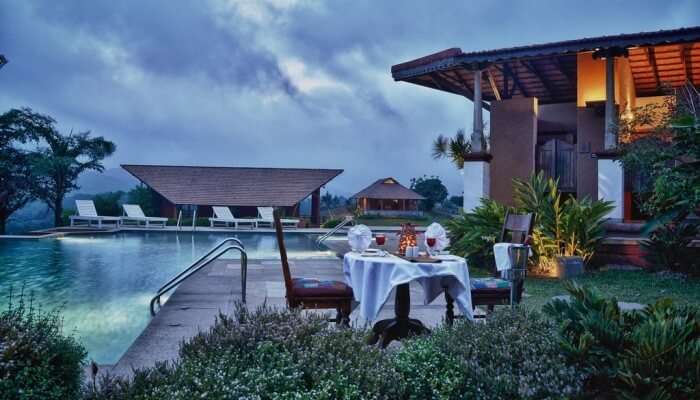 The luxury Heritage Resort is a serene getaway to natural surroundings. It combines ecological balance with outlandish stay with its rainwater harvesting system and solar panels.
Location: 50/3 1st Monnangeri Village, Galibeedu, Madikeri, India
Price: INR 7,800 per night
Romantic Restaurants In Coorg
Dive into a culture and experience new cuisines on your honeymoon. After all, the way to a person's heart is through their stomach.
8. Coffee Cup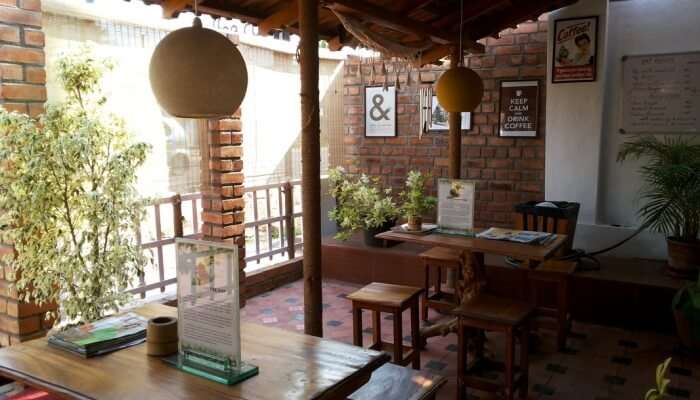 Coffee Cup is a vegetarian-friendly café popular for breakfast and coffee. They not only make their own coffee, but sell it from their estates.
Location: Mysore-Madikeri Road, Opposite Nigargadama, Kushalnagar, India
Time: 9:30 AM – 9:00 PM
9. The Rainbow Room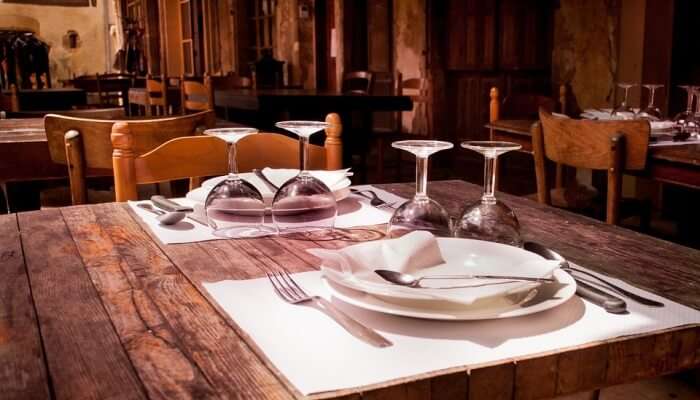 The Rainbow Room not only serves Coorgi cuisine but also Italian and Continental. To go with your food are available alcoholic and non-alcoholic beverages.
Location: #21, Bollur village, Guddehossur, Kushalnagar, Coorg, Kushalnagar, India
Time: 7:30 AM – 10:30 PM
10. Greenland Restaurant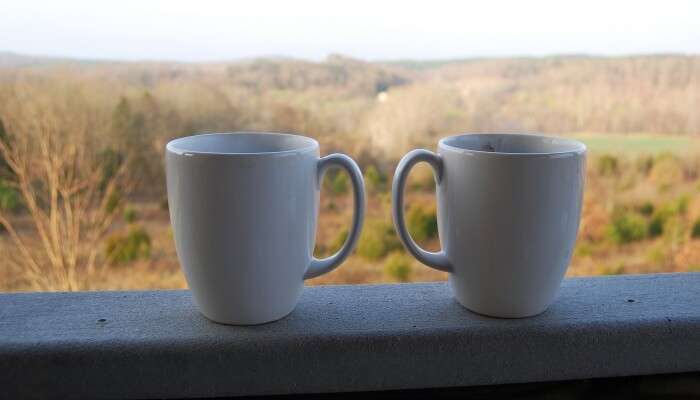 Be it an early morning snack before going trekking or a late-night coffee on your way back, Greenland Restaurant offers exotic food at great prices.
Location: B M Road, Near G T Circle, Madikeri, India
Time: 6:00 AM – 11:00 PM
How To Reach Coorg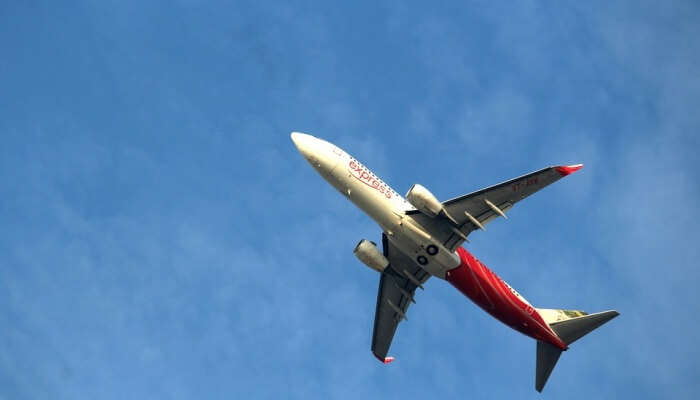 Being a hill station, the public transportation facilities in Coorg are inefficient. But it is well connected to major cities like Bangalore, which makes it easy to commute.
By Air: The nearest airport to Coorg is the Mangalore International Airport in Mangalore, about 111 km away. This distance can be covered via taxis or buses.
By Train: The nearest railway station to Coorg is in Mysore, about 95 km away. You can hire a taxi or hop into buses outside the railway station to commute to Coorg.
By Bus: Coorg is well-connected by NHS and buses. There are deluxe KSRTC buses that run to Coorg from Bangalore, Mysore, and Mangalore. Pre-booking your tickets is advisable.
This was an elaborate guide to having the most of what Coorg has to offer when it comes to honeymoons. Have a splendid time enjoying the lush green pastures, nature walks, and clicking memorable pictures in coffee and tea plantations as you explore the above-mentioned romantic places to visit in Coorg. A honeymooners' vacation in Karnataka would be all the more amazing if the itinerary includes a visit to the romantic Coorg.